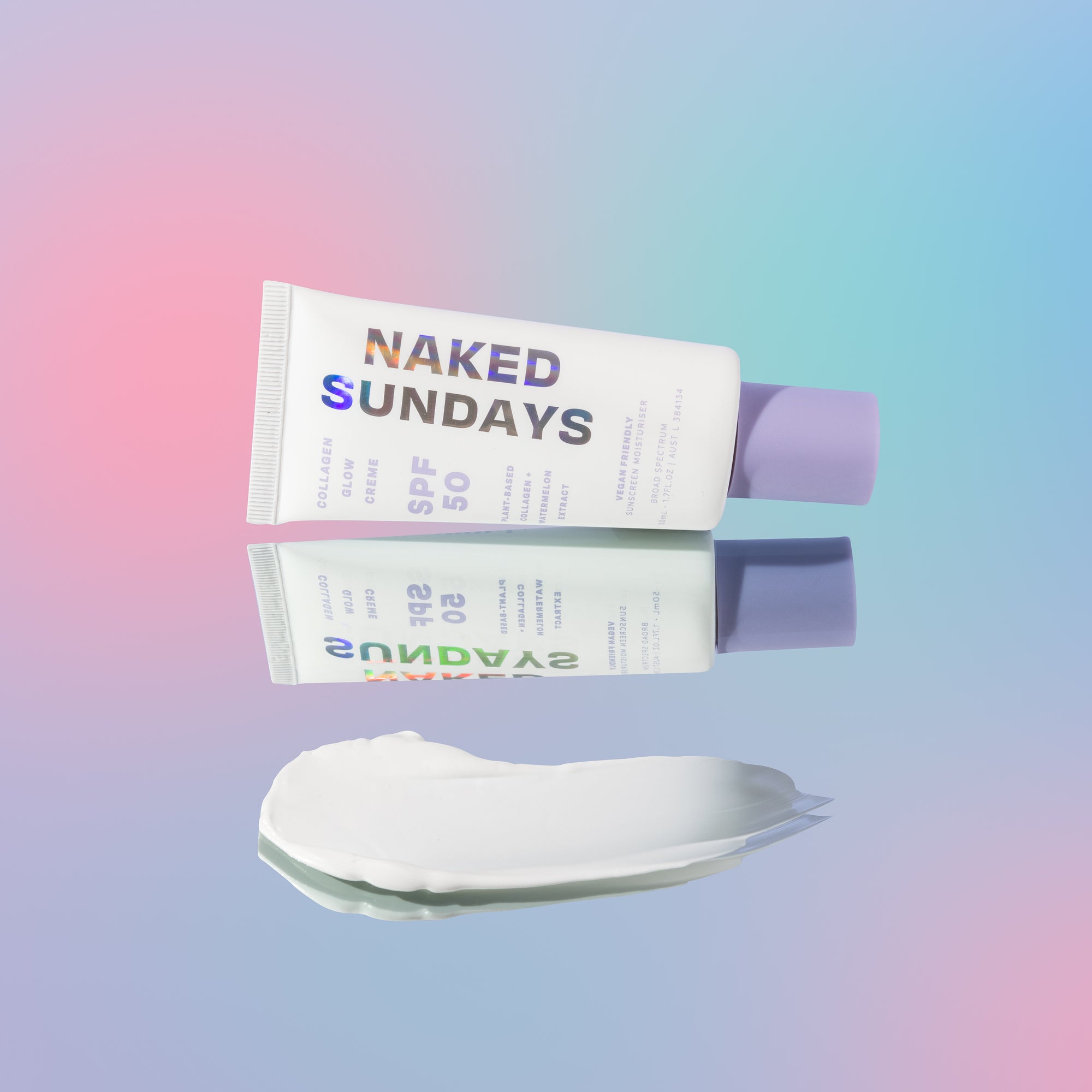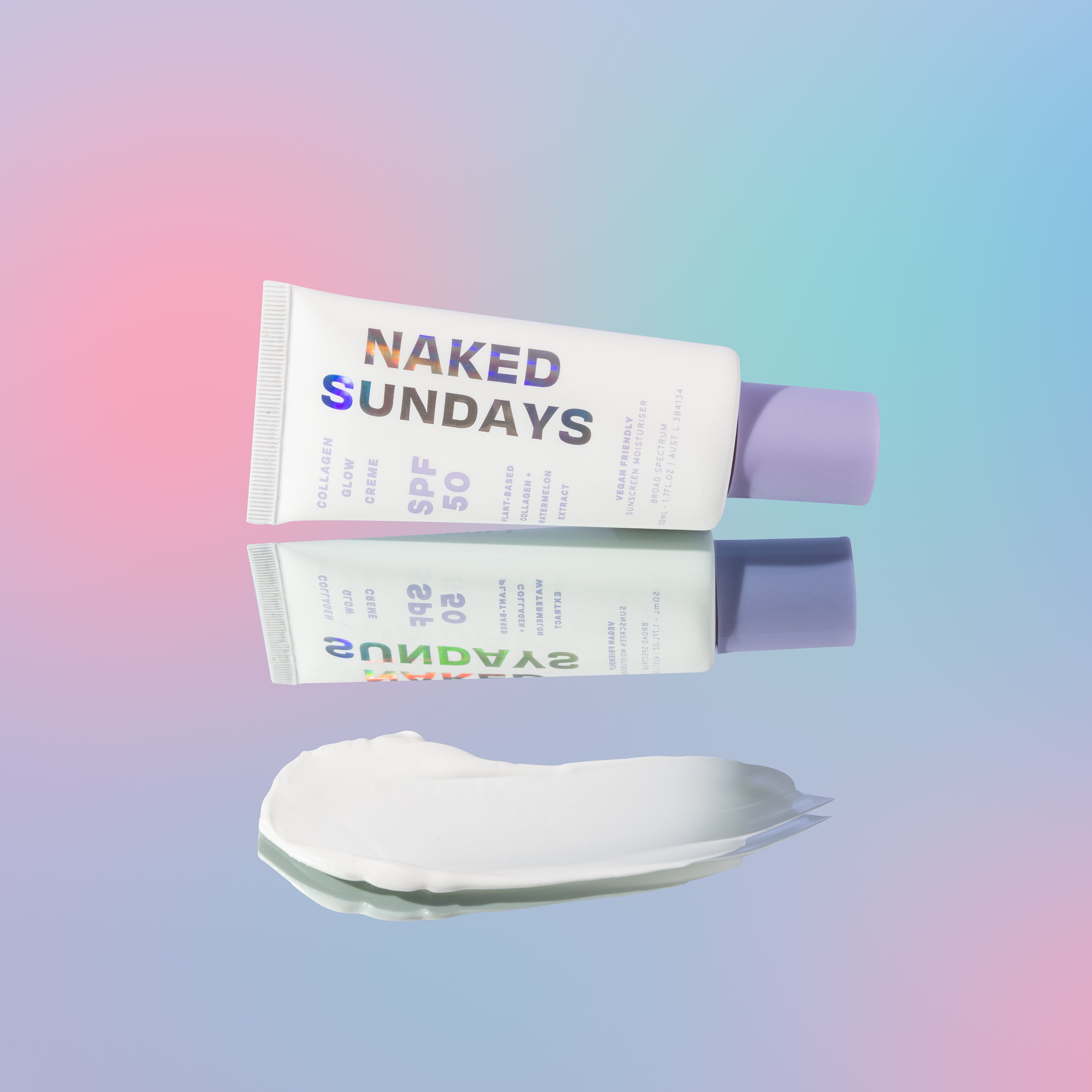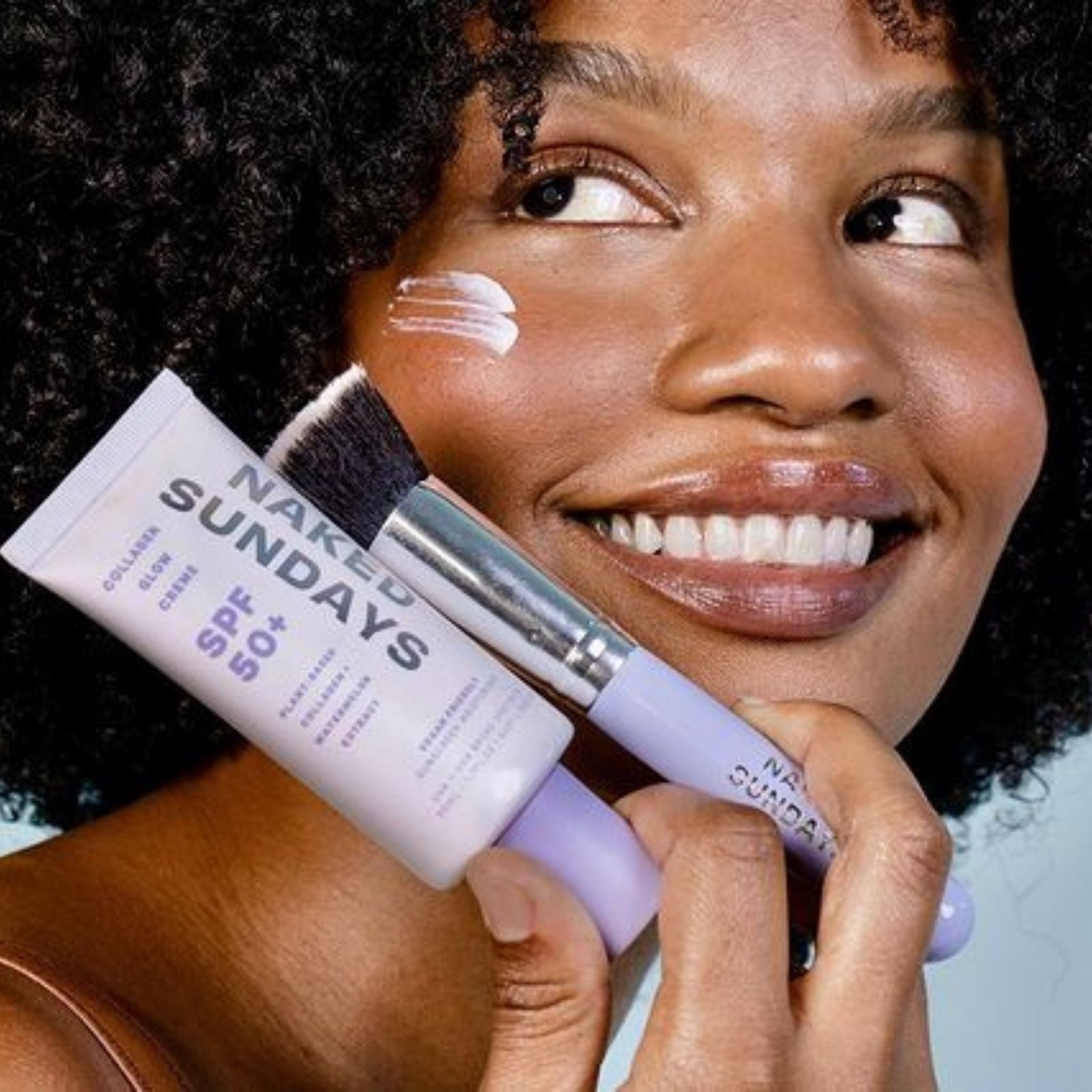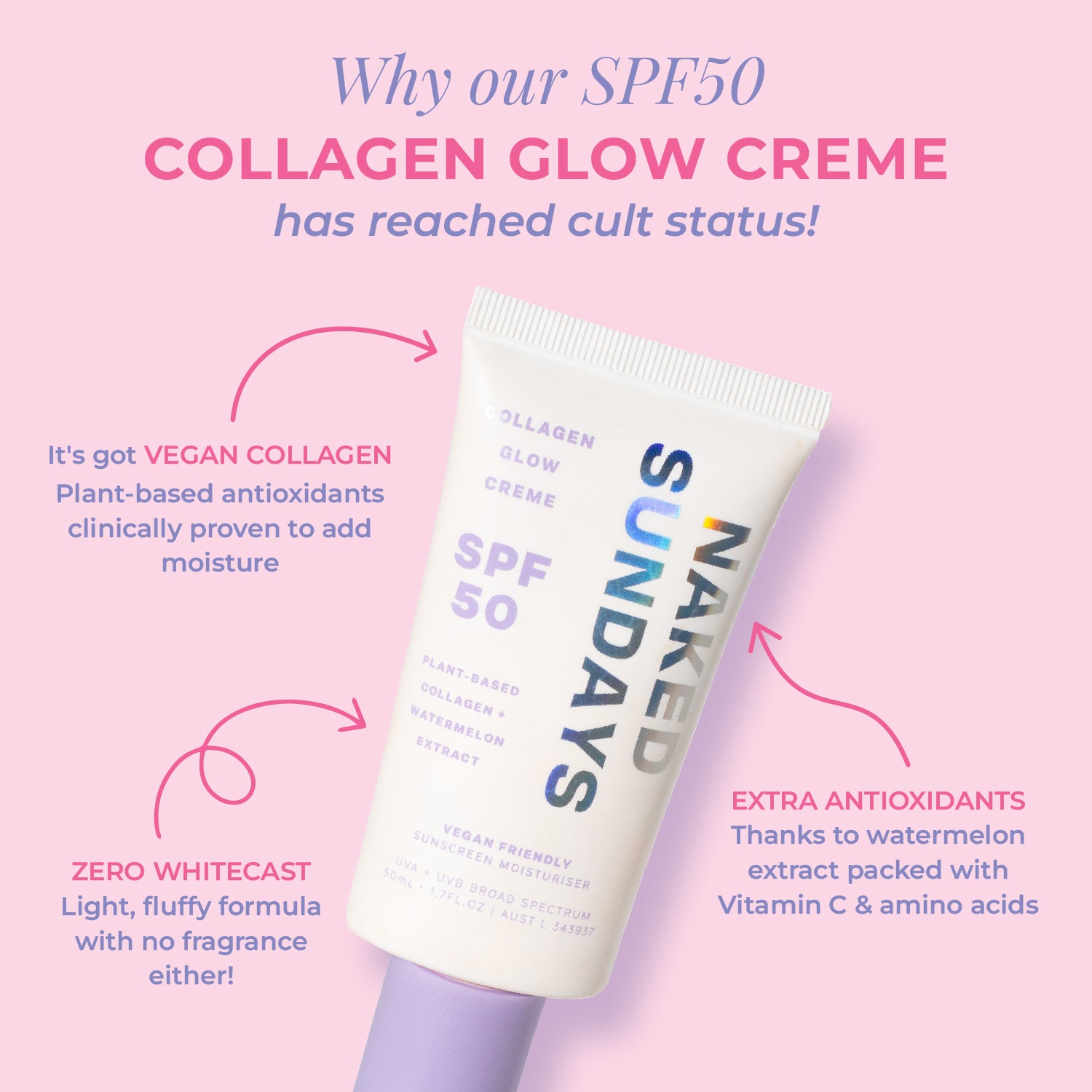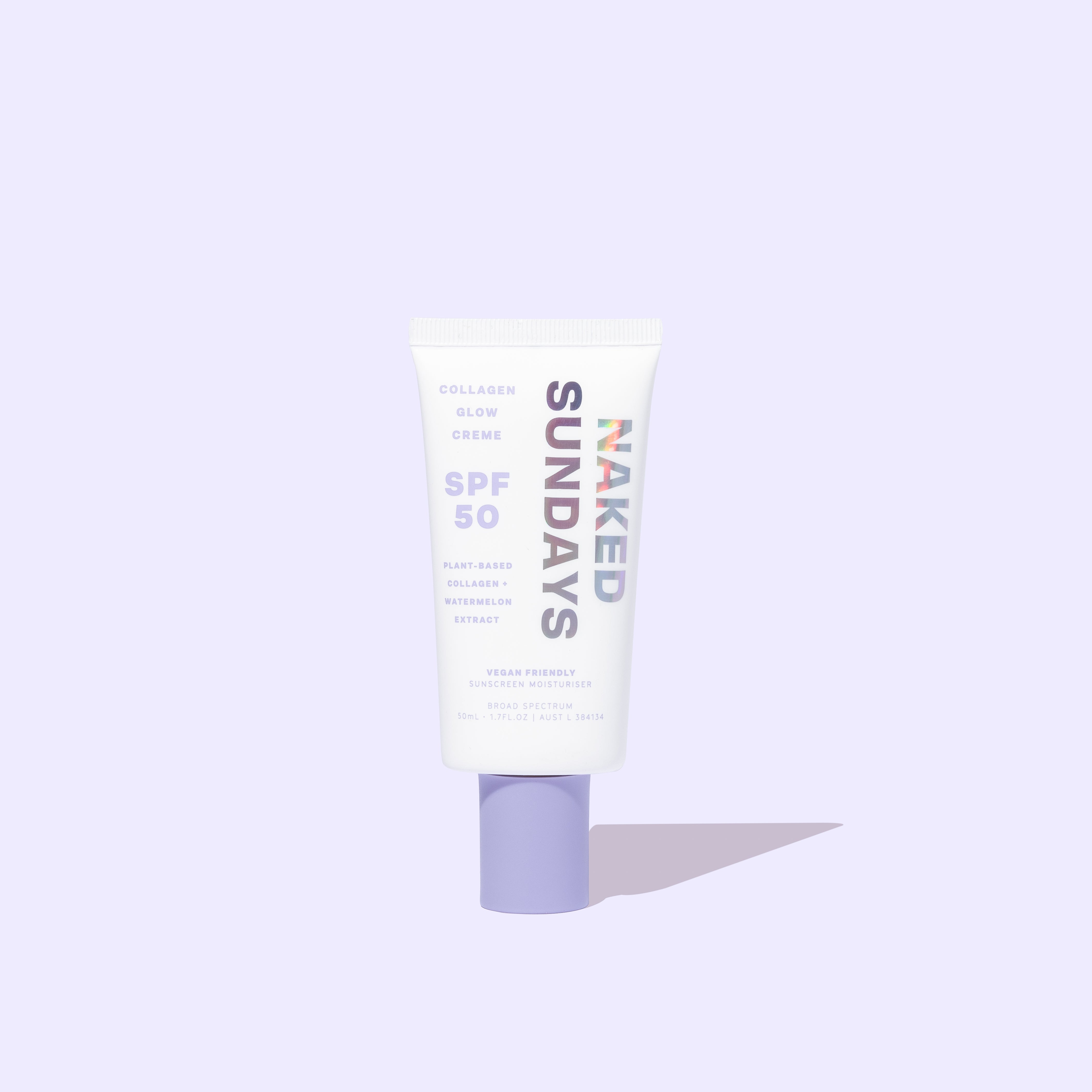 SPF50 Collagen Glow Creme
Product Details

Introducing our exclusive vegan collagen-infused SPF creme (re-formulated!). Like an airbrush for your skin, this 4 in 1 primer, sunscreen, collagen-booster and moisturiser in one delectable tube is everything you need to start your day energised and empowered.


Please note: This is a chemical sunscreen with the highest performance SPF so please do not put in your eyes. Not recommended for sensitive skin - that's why we've create our Mineral SPF. Just for y'all who don't play well with chemical SPFs.

How to Use

Make sure you use 1/4 tsp for face and 1/2 tsp for face and neck. Spread evenly, and reapply often, especially when swimming or towel drying as this is a non water resistant formula.

ALWAYS READ THE LABEL AND FOLLOW THE DIRECTIONS FOR USE. Sunscreen is only one form of sun protection. Prolonged high-risk sun exposure should be avoided. Reapply as directed.
Ingredients

ACTIVE INGREDIENTS:
Butyl methoxydibenzoylmethane 30 mg/g, homosalate 100 mg/g octocrylene, 100 mg/g, octyl salicylate 50 mg/g

OTHER INGREDIENTS:
Dimeticone 350, d-alpha-tocopheryl acetate, ethylhexylglycerin, gluconolactone, glyceryl monostearate, hydrolysed adansonia digitata leaf polysaccharides, hydrolysed rice protein, hydrolysed soy protein, phenoxyethanol, potassium cetyl phosphate, proline, purified water, sodium benzoate, sodium polyacrylate, Watermelon Extract.

Hero Ingredients

VEGAN COLLAGEN
Collagen is typically animal-derived but we've searched high and low to source the highest-grade vegan collagen which has been specifically formulated to have comparable amino acid composition and sensory profile of hydrolysed animal collagen. But while animal-derived collagen isn't usually able to effectively penetrate the skin due its large molecular structure, our vegan collagen is structured to have smaller molecules to penetrate deeper into the skin. Plus our vegan collagen has undergone extensive in-vivo clinical studies and sensory tests that show immediate long-term results when it comes to an increase in moisture hydration, plus smoother, more rejuvenated skin. Yep, we thought it was too good to be true too!
FREE FROM: Sulfates, Parabens, Phthalates and Fragrances